The main idea of this one is trading the trend after the completion of a correction. The particularity of the system is the use of the Stochastic Oscillator for defining the end of the pullback and the continuation of the main trend.
The Stochastic parameters are 7.10.3. The trend direction is in accordance with the slow line of the oscillator, while the quick l8ne signals the end of the pullback. The trade is entered when both lines move in the same direction. What deserves the most attention is the hook under the slow line. The order is held strictly one day, with a TP placed at the end of the day and an SL — under the minimum/maximum of the signal candlestick.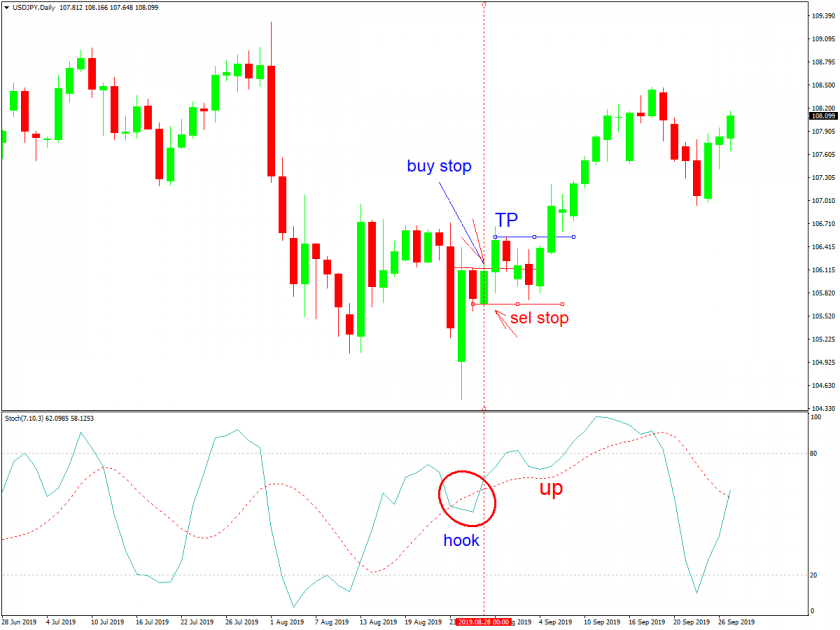 This strategy is suitable for almost any timeframe if all the rules are followed.
Summary
In this article, we have discussed the three easiest strategies by Linda Raschke's that have influenced the whole market significantly, stimulating many traders to develop new breakaway strategies for not only D1 but also session, week, month or year timeframes. These three strategies are suitable for beginners and professionals equally. It is worth mentioning that, regardless of how easy they look, these strategies require much care with SLs. Raschke's work is an example of long-time devotedness to trading. With lots of other systems available, she has invented her own unique methods and shared them generously.
In order to harvest good results, reading the rules and opening an account at once is not at all enough. What you need is strict compliance with the rules, good money- and risk management. No matter how great her strategies are, Linda Raschke has experienced serious losses, too. However, after them, she demonstrated even better results. That is why she gives us such an amazing example to follow.